Casa Palmeira, Algarve, Portugal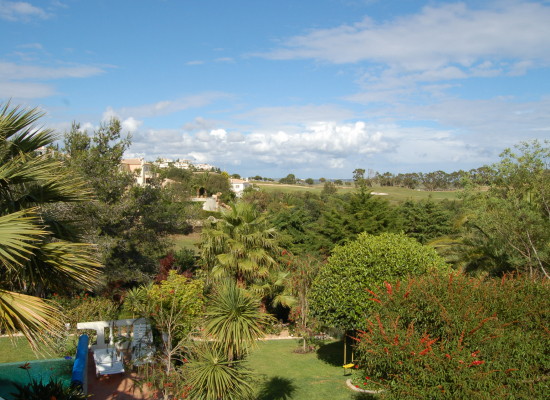 Casa Palmeira is a stunning luxury holiday villa located in Golfe Santo António Golf and Leisure Resort (formerly Parque da Floresta) in the beautiful western Algarve, about one hour by car from Faro Airport along the dual carriageway towards Lagos.
Golfe Santo António is at Budens, 15 minutes by car from Sagres and Cape St Vincent and 20 minutes from Lagos.
If travelling from Faro, take the main road from the airport, signposted to Lisbon and follow the signs to the A22 (IP1) motorway. Once on the motorway, head towards Albufeira and Portimao and then continue towards Lagos. Take the turning off the A22 at Exit 1 on to the N120 towards Lagos. This takes you to a large roundabout. Head over this to the next roundabout and then follow the signs for the N125 towards Sagres. Continue for about 12 kms until you pass the Ecomarche Supermarket on your right. After a further 1 km, turn right into the entrance of Golfe Santo António. The main reception is on the right, just after the tennis courts.
Use the controls to zoom in and out. You can move the map by clicking and dragging it with your mouse. Zoom in fully for best accuracy.